Še nekaj mnenj po slavju v pokalnem finalu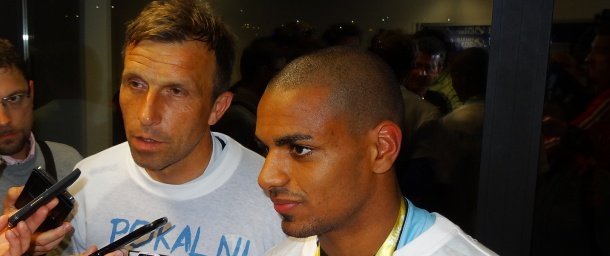 Nova Gorica, 23.05.2014
Vratar Alex Cordaz in priljubljen komad Ti moja rožica
Po veličastni zmagi v finalu Pokala Slovenije so številni novogoriški nogometaši medijem dajali intervjuje.
Kapetan moštva Alen Jogan, ki je tudi dvignil Pokal Slovenije, je povedal: "Občutki so fenomenalni, to je neverjeten uspeh. Po toliko tekmah proti Mariboru smo se zavedali, katere slabosti je treba odpraviti, našli pa smo tudi njihove šibke točke. Vedeli smo, da jih lahko presenetimo s hitro žogo po tleh. Uspela sta nam dva izjemna protinapada. Odigrali smo zelo dobro, Mariboru smo pustili malo prostora. Vijoličasti so tehnično odlično podkovani, imajo dobre posameznike. Na prejšnjih tekmah z Mariborom se nam ni izšlo po željah. K sreči nam je uspelo prav na najpomembnejši tekmi. Zelo sem vesel za Finocchia, za uspeh smo zaslužni vsi."
Dvakratni strelec Francesco Finocchio je bil presrečen: ''To sta najpomembnejša gola v moji karieri. Do zdaj nisem osvojil še ničesar. Zelo sem vesel, osvojeni pokal mi pomeni veliko. Premagati Maribor ni kar tako. Ko sem vstopil na igrišče, sem upal, da bi dosegel zadetek za zmago, da bi dal dva, pa nisem niti sanjal. Ni bilo lahko, Maribor je napadal do konca, po vodstvu z 2:0 pa smo bili lahko vseeno mirnejši. To je krona sezone. V prvenstvu nam morda ni uspelo doseči izidov, ki smo si jih želeli, zdaj je vse lepše. Uspelo nam je iz protinapadov presenetiti Maribor in zasluženo smo zmagali. To je pomembna stvar tudi za prihodnost. Trener mi je dejal, da naj stojim ob strani in se nato prebijam proti vratom. To sem storil dvakrat in dosegel dva zadetka. Imel sem tudi nekaj sreče, da pri drugem branilec ni dobro sprejel žoge."
Vratar belo-modrih Alex Cordaz je navdušeno sporočil: "Odločilno za uspeh je bilo to, da smo tekmo odigrali s srcem. Bili smo previdni in nismo nič tvegali. Igrali smo dobro, odigrali smo odlično tekmo. Samo tako smo lahko premagali Maribor. Zame je to najlepša zmaga, odkar igram nogomet. Velikokrat sem bil razočaran. Res sem vesel, ker sem osvojil ta pokal. To je lepa nagrada zame in za ekipo."
Po tekmi se je Cordaz prešerno veselil s soigralci. Na videu si lahko pogledate, kako je prepeval uspešnico Modrijanov - Ti moja rožica. (klikni)
Legenda goriškega nogometa Miran Srebrnič, ki je bil poleg pri vseh osmih trofejah novogoriškega kluba pa je dejal: ''Finocchio je že v prvenstvu pokazal nekaj dobrih iger in je bil v dobri formi. Enega izmed dveh krilnih napadalcev smo nameravali zamenjati že prej, Bonipertiju so nato pošle moči, svoje je naredila tudi poškodba. Tako je dobil priložnost Francesco in jo izkoristil na najlepši mogoč način."