Miran Srebrnič pred pokalnim gostovanjem v Velenju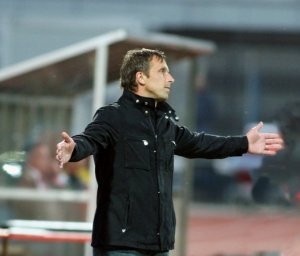 Nova Gorica, 18.10.2011
Pogovor s prvim trenerjem tudi o zmagi na derbiju ter sobotni preizkušnji z Domžalami
Tekme si letošnjo jesen sledijo kot po tekočem traku. Novogoričani bodo že danes ob 18. uri, tudi z neposrednim prenosom na TVS 2, nastopili v Velenju. V prvi tekmi četrtfinala Hervis pokala Slovenije jim bo nasproti stal domači Rudar.
O visoki zmagi na primorskem derbiju ter pred prihajajočima tekmama z Rudarjem in Domžalami (Športni park, sobota 20.05) je za nd-gorica.com spregovoril trener Hita Gorice Miran Srebrnič.
O zmagi na derbiju
''Na sobotni tekmi smo v prvem delu tako mi kot gostje igrali zelo taktično. Tekma je bila mrtva, Koper se je posvetil organiziranemu branjenju. V drugem polčasu so na svoj račun prišli tudi gledalci. Zaigrali smo bolj dinamično in se drugič zapored po zaostanku pobrali. Ekipa je znova dokazala, da ima karakter. Ko se zgodijo takšni preobrati, ima to še dodatno vrednost. Vsi smo zelo zadovoljni,'' je prvi mož Goriške stroke komentiral sobotno zmago s 4:1 nad Luko Koprom.
O današnjem dvoboju v Velenju
Današnjo tekmo v Velenju pa pričakuje tako: ''Po mojem mnenju so možnosti za napredovanje povsem izenačene. Rudar ima zelo dobro moštvo. Zadnji dvoboj proti Olimpiji so odigrali zares vrhunsko. Toda z njimi se ne obremenjujemo. Naš cilj je ponavljati konstantne igre s prvenstvenih tekem. Upam, da nam bo v pretežni meri uspelo tudi tokrat. Seveda si želimo doseči vsaj en zadetek, toda vse bo odvisno od nas samih. Ob takšnem ritmu, ko bomo v 10 dneh odigrali štiri zahtevne tekme, se pojavljajo težave, ki pa jih bomo poizkušali čimbolje prebroditi,'' je Srebrnič namignil na bolezen Arisa Zarifovića (njegov nastop je vprašljiv) ter poškodbo Daliborja Stojanovića. Rok Buzeti bo odsoten dalj časa, zaradi kazni pa še naprej ne bo igral Nejc Mevlja. Njegov brat Miha se vrača v moštvo.
O sobotni tekmi z Domžalčani
Po današnji pokalni tekmi belo-modre v soboto čaka nov domači nastop. V Športnem parku bo ob 20.05 gostovala enajsterica Domžal: ''Nova tekma, nova priložnost. Smo v dobrem tempu zmag, ki ga želimo zadržati. Domžale imajo zelo izkušeno ekipo, ki je morda v zadnjem času malce v krizi, toda takšna moštva so najbolj nepredvidljiva. Upam, da bo tudi publika spoznala naše delo, našo igro in nas na stadionu podprla v čimvečjem številu. Tako nam kot igralcem je pred številčnim in bučnim občinstvom lažje igrati. K sreči smo letos nekajkrat to že doživeli. Želim si, da bi bilo tako tudi v soboto. Cilj je seveda nova zmaga,'' je zaključil Miran Srebrnič.
ND Gorica - vse pravice pridržane!