Mladi vratar do odmevnega prestopa!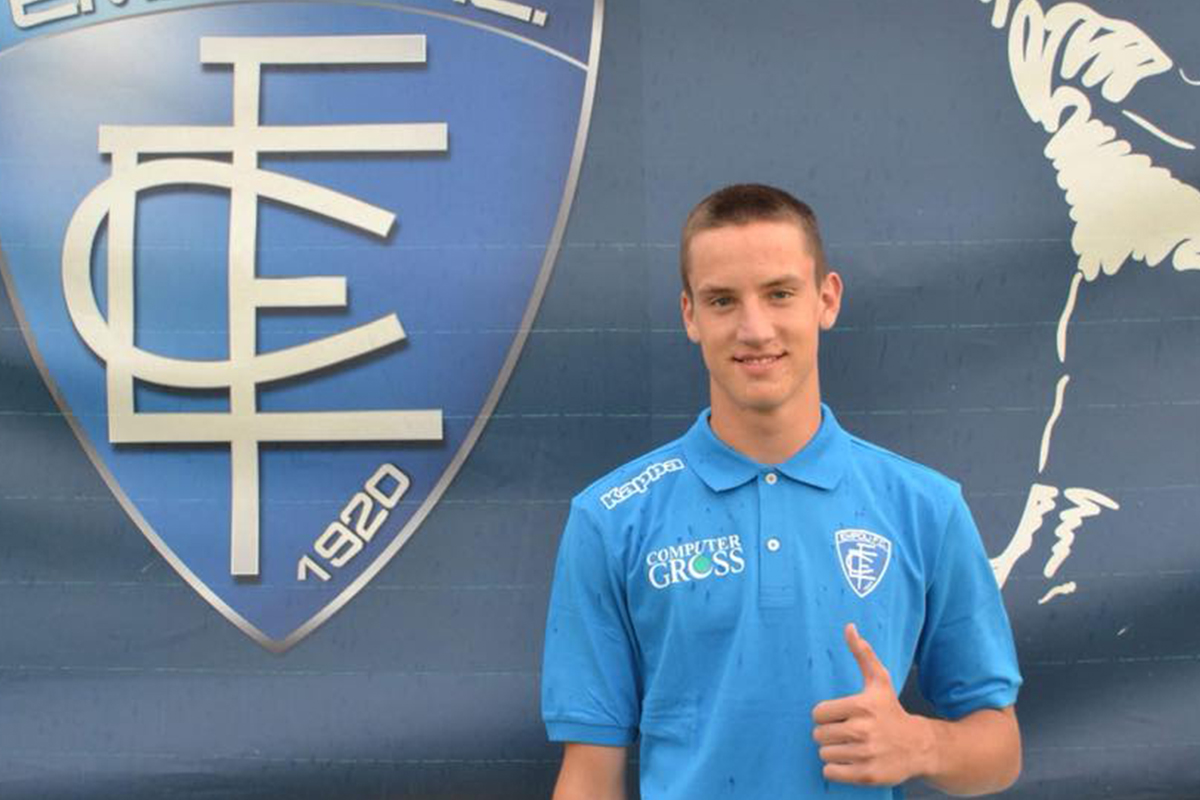 Nova Gorica, 02.08.2018
Mladi obetavni vratar Klemen Hvalič, ki je do sedaj nastopal za mladinske selekcije plavo-belih, je prestopil v Empoli! Gre za posojo z možnostjo odkupa.
Veliko je igralcev, ki so iz Gorice odšli v tujino in si ustvarili lepe kariere. Mednje spadajo nogometaši kot so Tim Matavž, Etien Velikonja, Miran Burgič ter še mnogo drugih ... Vsi našteti so se članski ekipi pridružili iz novogoriških mladinskih selekcij, kar je dokaz dobrega dela v preteklosti. Prestop 16-letnika, ki je igral za vse mlajše kategorije ND Gorica, potrjuje, da je kvaliteta nogometne šole še vedno na visokem nivoju.
Prestop odobrava tudi predsednik kluba Hari Arčon, ki pravi, da mladi vratar odhaja v pravo okolje: "To, da Klemen Hvalič odhaja v tako renomiran klub, kot je Empoli, ki se vrača v italijansko prvo ligo Serie A, kjer uspešno nastopa slovenski reprezentant, fant iz našega okolja, Miha Zajc, je zagotovo velika potrditev. Gre za potrditev dobrega dela vseh trenerjev v nogometni šoli, gre za potrditev dobrega dela vratarjev v nogometni šoli in za potrditev pravih odločitev vodstva kluba.''
Nadaljeval je: ''Fant je preteklo sezono prvo leto nastopal v kadetski ekipi in prestop v tako visok rang klubskega nogometa zagotovo znatno dviguje 'imidž' in 'branding' kluba tja kamor spada, to je vrh slovenskega nogometa tudi v mlajših selekcijah. Vse to težko potrdim z dogodki oziroma rezultati, ki so se odvijali v preteklih treh letih, ampak ljudje, ki to opazujejo samo od zunaj, težko vidijo, da smo v mlajše selekcije vložili enormno količino truda in energije. Prišel bo dan, ko se bo to obrestovalo in nas zelo močno dvignilo med najboljše. Upam si trditi, da če ne bi toliko vlagali v nogometno šolo kot smo, naše mlajše selekcije več ne bi nastopale v 1. SML oz. SKL. Smo zelo veseli in ponosni, da Klemen odhaja v Empoli, zanimanja je bilo veliko tudi iz drugih tujih in domačih klubov, po drugi strani pa smo okrog njega želeli nadaljevati s projektom, ki smo ga že leta nazaj zastavili ter ga počasi realiziramo, korak po koraku. Vseeno gre za mladino, kjer je potrebno malce več časa in glede na težave iz preteklosti mislim, da se dobro dvigujemo."
V nadaljevanju je predsednik Arčon več govoril o strategiji kluba glede mladih igralcev: "Strategija je nastavljena tako, da bi mlajši igralci najprej nastopili v članski ekipi in nato naredili preskok v boljše tuje klube. Skupaj z Empolijem vstopamo v skupni projekt Klemnovega razvoja in ponujajo se nam dve možnosti, in sicer ali smo naredili zelo dober posel ali pa se bo fant vrnil in zaigral za člansko ekipo ND Gorice. V vsakem primeru gre za strateško zelo dobro potezo in verjamem, da fanta čakajo zelo zahtevne preizkušnje, tako življenske kot tudi v smislu nogometa, ampak Klemen je v zadnjem obdobju pod taktirko odličnih trenerjev vratarjev zelo dobro treniral ter se zelo hitro razvijal. Je delaven, zagnan, ambiciozen, ponižen in fizično izrazito zanimiv igralec, torej ima vse potrebne lastnosti, da lahko postane vrhunski vratar in nekega dne brani v prvi italijanski ligi."
Ob prestopih v tako velike klube, si želi, da bi fantom uspelo priti do uresničitve svojih sanj in želja: "Pomembno je poudariti, da gre za prestop v klub, ki igra v Serie A in ko te kontaktirajo klubi iz takšnega nivoja, enostavno kot predsednik ne morem zapirati vrat. Ne zato, ker je prestop lahko zelo koristen za klub, ampak predvsem zato, da bi mlademu fantu in njegovim najbližjim omogočil boljše pogoje ter izpolnitev otroških sanj in želja za katere si je do današnjega dne prizadeval."
198 centimetrov visoki vratar se je novim soigralcem že priključil, ob tej priložnosti pa mu želimo veliko sreče in uspeha na novi trdo prigarani poti!
K.P.