Že šesta zmaga to pomlad!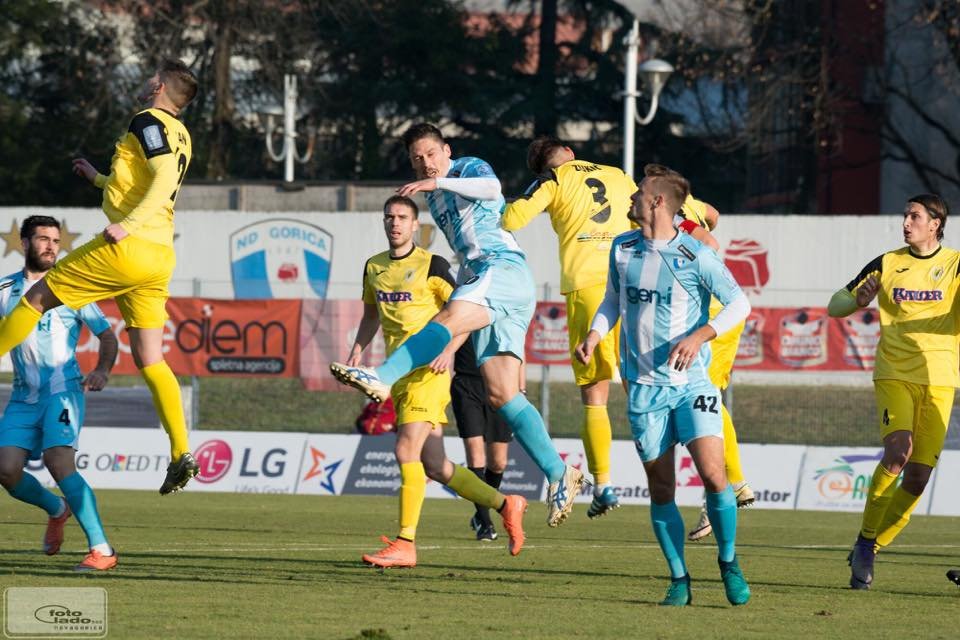 Nova Gorica, 21.04.2017
Belo-modri so tudi z Radomljani opravili odličen posel in se po vnovičnem preobratu veselijo vseh treh točk.
Začetek srečanja je bil živahen. Domačini so kar trikrat merili proti vratom Grege Sorčana, prvi strel za Gorico pa je sprožil Dejan Žigon. Hladen tuš so gostje doživeli v 23. minuti, ko je po podaji Domna Jugovarja zadel Kristjan Šipek.
Zadetek je predramil Novogoričane, ki so prevzeli pobudo. Tako beležimo nekaj zaporednih poskusov. Najprej je Jan Humar zgrešil vrata, nato je z glavo streljal Alen Jogan. Sledili so še poskusi Amarachija Osuija, Žigona in tik pred dohodom na odmor še prvega strelca ekipe Mirana Burgiča.
V nadaljevanju sprva po en poskus na obeh straneh, nakar je v 58. minuti Gorici vendarle uspelo izenačiti. Tokrat se je v vlogi asistenta po kotu izkazal Miran Burgič, v vlogi eksekutorja pa branilec Miha Gregorič.
Novogoričani so dobili zalet in že slabih deset minut zatem je Dejan Žigon izjemno podal Miranu Burgiču za zmagoviti gol. Prvi strelec ekipe je zadel z glavo.
Radomljani so sicer dvakrat poskušali premagati Sorčana, ki je bil pazljiv. Na drugi strani pa so opogumljeni gostje zapretili še prek Rifeta Kapića, Tilna Nagodeta in ob koncu še Leona Mariniča.
Moštvo je znova pokazalo karakter ter se s to zmago resno vključilo v boj celo za tretje mesto.
ODLIČNO, GORICA!
ND Gorica naslednjo tekmo igra v soboto 29. aprila ob 18. uri doma proti Krškemu. Podprimo ekipo v velikem številu!
NK Kalcer Radomlje : ND Gorica 1:2 (1:0)