Nogometna šola: urnik vadbe in video s pripravljalnih tekem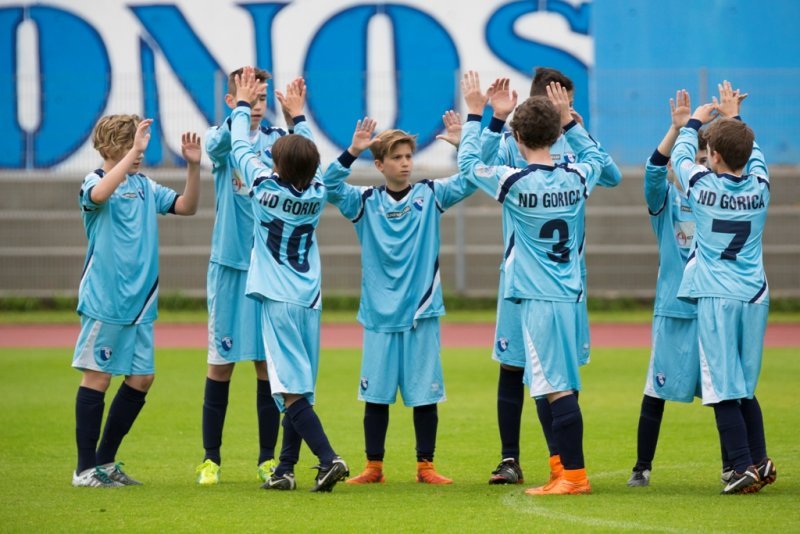 Nova Gorica, 01.08.2016
Vrhunskim ekipam pripadajo vrhunske tekme
TU JE URNIK TRENINGOV NOGOMETNE ŠOLE ND GORICA ZA TA TEDEN (klikni)
POROČILO O DOGAJANJU V NOGOMETNI ŠOLI
Vse tri naše selekcije, kI nastopajo v prvi slovenski ligi so s pomočjo staršev in sponzorjev odigrale tri vrhunske pripravljalne tekme.
Bile so to izjemne preizkušnje že takoj v startu pripravljalnega obdobja. Odločitev, da damo igralcem kar mesec dni prosto in jim za to obdobje pripravimo izjemen načrt individualnega dela je obrodil sadove. Fante želimo vzgajati v duhu zaupanja kjer določeno zastavljeno in načrtovano delo opravijo tudi takrat, ko trenerja ni ob njih. S tem jih tudi želimo pripraviti na samostojnost in samodisciplino saj na koncu poleg še nekaterih faktorev sta prav prej našteta med najpomembnejšimi za doseganje vrhunskih rezultatov.
Tekmi v Reki in Pulju sta nam tudi dali takojšnji odgovor kje je potrebno do prve prvenstvene tekme opraviti še dodatno delo in se s tem približati najboljšim v državi. Fantje so odšli na tekmo takoj po dveh treningih in izjemno napornem tednu individualnega dela kar je od njih zahtevalo nepopisen napor. Dosegli smo načrtovano in preverili takoj na začetku kako smo dobri pod izjemnim pritiskom.
Ali je bil rezultat tekem pomemben? Seveda je bil tako kot vedno in na njega nismo prav ponosni...predvsem na tistega iz Reke. No, sama tekma v Puli je bila že na precej višjem nivoju. Izjemno vrhunski pristop s strani vseh moštev in izjemno lepa igra a se je videlo, da zaradi neuigranosti še nismo sposobni dosegati zadetkov niti iz 150% priložnosti. Zadnji preizkus smo opravili na domačem igrišču z ekipo NK Bravo katera vsako leto sodi v sam vrh slovenskega nogometa in bili že blizu željnega.
Prvi pravi preizkus pa nas čaka že v soboto 06.08.2016 doma na glavnem stadionu proti lanskoletnim prvakom ekipama iz Domžal. Kadeti pričnejo ob 16.00 uri in mladinci ob 18:00. Vabimo vas na tribune športnega parka in seveda bodo vaši otroci in naši varovanci izjemno veseli vaše podpore na tej za njih pomembni tekmi.
VIDEO Tukaj (klikni) si lahko ogledate promocijski video posnetek s tekme v Reki.