ND Gorica zmagala tudi v Celju! Odločala bo zadnja tekma.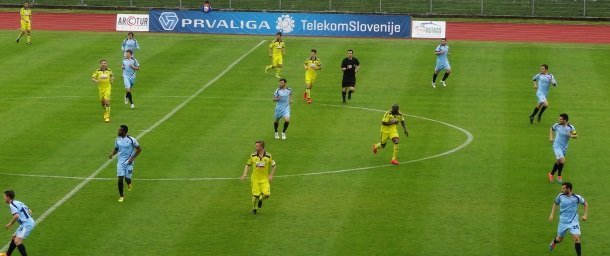 Nova Gorica, 23.05.2015
NK Celje : ND Gorica 0:3
ND Gorica ostaja v igri za neposredni obstanek v Prvi ligi! Belo-modri so na Areni Petrol deklasirali drugouvrščene Celjane s 3:0.

Zaradi poškodbe v ekipi ni bilo napadalca Luke Majcna, kapetan Alen Jogan pa je bil nared. Najprej beležimo strela Dejana Žigona in Amedeja Vetriha. Slednji je v 14. minuti lepo podal, Marshal Mfon Johnson pa z glavo zadel za 1:0. To je drugi gol Nigerijca v letošnji sezoni.

Po zadetku so se malce prebudili domačini in zatresli okvir vrat. Toda tudi Novogoričani niso popuščali. Želeli so si drugega gola in ga zabili v 35. minuti. Amelu Džuzdanoviću je domači vratar strel ubranil, odbito žogo pa je z glavo v mrežo pospravil Blessing Chibukie Eleke. To je tretji letošnji gol tega obetavnega Nigerijca.

V nadaljevanju najprej poskus razigranega Johnsona. Gorica pa je končni izid postavila v 75. minuti. Dejan Žigon je po intervenciji domačega branilca padel, enajstmetrovko pa je uspešno za svoj četrti prvenstveni gol izvedel Amedej Vetrih.

Glede na to, da je Krka klonila proti Mariboru, Gorica še naprej ostaja v igri za osmo mesto.

Zadnji krog bo v soboto, 30. Maja ob 17.00: Gorica gosti Zavrč, Krka pa gostuje pri zadnjih Radomljah.


NK Celje : ND Gorica 0:3 (0:2)

Celje - Stadion Arena Petrol, sodniki: Balažič, Kordež (oba Ljubljana) in Klančnik (Slovenj Gradec).

Strelci: 0:1 Johnson (14.), 0:2 Eleke (34.), 0:3 Vetrih (75./11 m).

NK CELJE: Jurhar, Klemenčič, Bajde (od 59. Sunny), Ahmedi, Šporn (od 66. Pišek), Gobec, Jeslinek (od 46. Jugović), Žitko, Soria Alonso, Vidmajer, Lendrić.

ND GORICA: Sorčan, Boccaccini, Vetrih, Širok, Žigon, Taider, Eleke (od 85. Nagode), Džuzdanović (od 78. Osuji), Jogan, Pasqualini, Johnson (od 82. Martinović).

Rumena kartona: Jugović, Klemenčič.