Marco Modolo in Amel Džuzdanovič pred srečanjem v Ljudskem vrtu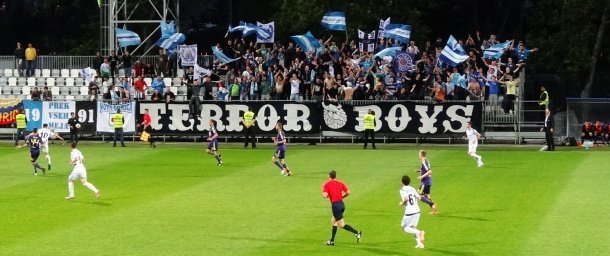 Nova Gorica, 08.08.2014
Izjavi iz tabora belo-modrih
Pred srečanjem z Mariborom sta za Youtube kanal ND Gorica (klikni za ogled) misli strnila branilec Marco Modolo in mladi zvezni nogometaš Amel Džuzdanovič.
Marco Modolo je dejal:
''Res je, da nimamo še nobene točke. Toda delamo dobro in upam na boljše obdobje. Sam ne gledam na to ali imamo več težav v napadu ali v obrambi. Smo ekipa, tako da se branimo skupaj in napadamo skupaj. Zavedamo se, da se moramo v celoti izboljšati in upam, da bomo to storili čimprej.''
Dodal je: ''V Mariboru nas čaka zelo težka tekma. So državni prvaki. Toda videli smo tudi v finalu pokala, da jim lahko povzročimo veliko preglavic. Vsekakor bomo poskusili odigrati dobro. Moramo pa biti zelo pozorni na vsako malenkost. Ko se nam ponudi priložnost, pa jo moramo izkoristiti.''
Mladi up Amel Džuzdanovič je povedal:
''Skozi igro večkrat pridemo do lepih priložnosti, toda ne dosegamo zadetkov. Upam, da se bo stanje popravilo že proti Mariboru. Če bomo imeli tri ali štiri priložnosti, upam na vsaj dva zadetka. Želim vse tri točke, že ena pa bi bila v redu. V napadu nam manjka nekoliko koncentracije, pa tudi sreče, kot na primer proti Kopru, ko nismo zadeli iz dveh stoodstotnih priložnosti.''
Dosedanji del sezone in svojo igro je komentiral: ''Računali smo na 6 do 7 točk, na zmage ali remije, ampak žal nam ni uspelo. Že v Mariboru gremo na tri točke, tudi v Superpokalu se nadejamo zmage. Računamo tudi na uspeh nad Radomljami. S svojo igro v članski konkurenci sem zadovoljen. Trener mi nudi veliko priložnosti in upam, da jo bom tudi naprej dobro izkoriščal.''
ND Gorica - vse pravice pridržane!