Bravo, fantje! Gorica z zmago iz Kidričevega!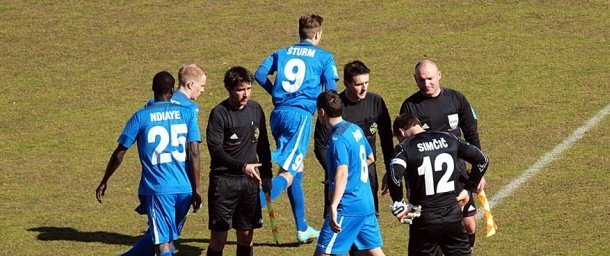 Nova Gorica, 10.03.2013
Novogoričani so Aluminij premagali s 3:1
ND Gorica je v drugi pomladni tekmi s 3:1 zmagala v Kidričevem in se tako utrdila na sredini lestvice. Zadeli so Dejan Žigon, povratnik Jani Šturm ter prvič v Sloveniji tudi Jean Mbida.
Uvodni del tekme je na težkem in razmočenem igrišču minil v previdni igri z obeh strani. Domači so sicer dvakrat nenevarno streljali, v 14. minuti pa je prvič za goste sprožil Uroš Celcer. Goričani so do prednosti prišli v 27. minuti. Akcijo je pričel Saša Živec, podal do Jeana Mbide, ki je lepo preigral vratarja in odlično podal Dejanu Žigonu. Ta je dosegel svoj 10. gol v sezoni.
Vse do zadnjih minut je bila nato igra v prvem polčasu nezanimiva. Tik pred odhodom na odmor pa so za belo-modre poizkušali Jean Mbida, Saša Živec ter Jani Šturm. Izid se ni spremenil.
V nadaljevanju sprva nekoliko podjetnejši domači, a so gostje vse napade zaustavili. V 59. minuti pa se je z roba kazenskega prostora za strel odločil Jani Šturm in natančno zadel v daljši vratarjev kot za 2:0.
V 71. minuti so imeli Novogoričani priložnost za tretji zadetek. Po prekršku domačih (igralec Aluminija je bil izključen) je strel z bele točke izvedel Uroš Celcer, domači vratar Murko pa je strel ubranil. Sledila je kazen saj je Aluminij le nekaj minut pozneje prek Jurice Jeleća znižal na 1:2.
Toda gostov to ni zmedlo. Še naprej so kontrolirali igro in v 86. minuti prišli do vodstva s 3:1. Prvič v prvenstvu je zadel Kamerunec Jean Mbida. Do konca tekme smo zabeležili še strel Matije Široka.
To je zelo pomembna zmaga Gorice. Prihodnji vikend pa jo čaka primorski derbi z Luko Koprom.
Aluminij : Gorica 1:3 (0:1)
Kidričevo, Štadion Aluminija, sodniki: Mertik (Odranci), Šinkovec (Maribor) in Smej (Fokovci).
Strelci: 0:1 Žigon (27.), 0:2 Šturm (60.), 1:2 Jeleč (79.), 1:3 Mbida (86.).
Aluminij: Murko, Hodžurda, Topolovec, Bingo, Bloudek, Ožvald, D. Rešek (od 46. Medved), Drevenšek, M. Rešek (od 43. Jovanovič), Jeleč, Črnic (od 67. Petek).
Gorica: Simčič, Celcer, Vetrih, Širok, Šturm (od 78. Praprotnik), Žigon, Živec (od 87. Bremec), Mbida, Mevlja, Gregorič, Jogan.
Rumeni kartoni: Hodžurda, Ožvald, Črnic; Jogan, Mbida.
Rdeč karton: Hodžurda (70.).