Dejan Žigon: S podporo gledalcev do zmage na derbiju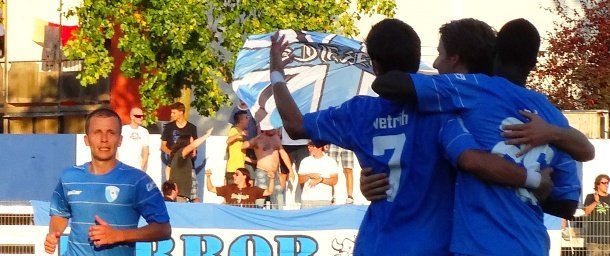 Nova Gorica, 17.08.2012
Pogovor s prvim strelcem lige
Kot je znano se nam v soboto ob 18. uri v Športnem parku obeta prvi letošnji primorski derbi. ''Res vsi skupaj upamo na večjo podporo s tribun. Ta bi nam prišla še kako prav,'' v pogovoru za nd-gorica.com poudarja prvi strelec letošnje Prve lige NZS 2012/13, član ND Gorica Dejan Žigon.
''Z igrami, ki jih kažemo, smo lahko zadovoljni. Mislim, da igramo dobro, atraktivno, hitro. To je tudi naš cilj in na vsaki tekmi se mu skušamo približati. Na zadnjem srečanju z Aluminijem se nam rezultatsko ni izšlo po načrtih. Odločeno smo, da bomo točke nadoknadili kar se da hitro,'' razmišlja Žigon, ki je bil do 13. leta član nogometnega kluba iz Renč, od koder se je prav tedaj preselil v Novo Gorico.
Pri ND Gorica tako nastopa že od mladinskih selekcij, zato ga tudi povezanost igralcev ne preseneča: ''Skupaj igramo že dalj časa. Dobro se poznamo, dobro treniramo. To se nam počasi obrestuje. Vsak dober rezultat je plod treningov in povezanosti ekipe. Primorski derbi pričakujemo pripravljeni. Vemo, da ima Koper zelo dobro, izkušeno ekipo. Čvrsto stojijo na igrišču. Nenazadnje letos še niso izgubili in si delijo prvo mesto. Zagotovo nas čaka težka preizkušnja,'' pove Žigon in dodaja:
''Verjamem vase in v soigralce, da bomo uspešno prestali tudi ta derbi. Že doslej smo dokazali, da se lahko kosamo z vsakim moštvom. Res pa upam na podporo gledalcev,'' še pravi s petimi goli najboljši strelec lige, ki svoj dosežek komentira takole:
''Zagotovo to ni prišlo iznenada. Nogomet igram že veliko let. Na vsakem treningu se trudim, da bi bil boljši. Vloženi trud se mi sedaj vrača. Toda zavedam se, da sem zdaj jaz bolj razpoložen, jutri pa bo nekdo od mojih soigralcev. Zadetki so plod dela celotnega moštva, zato si posebnih zaslug ne pripisujem. Le da bi Gorica zmagovala,'' zaključuje Dejan.
Vabljeni torej na primorski derbi. V soboto ob 18. uri v Športnem parku!
Gremo plavi, vi ste mojstri pravi!