V soboto domači dvoboj s Triglavom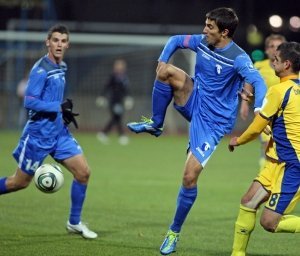 Nova Gorica, 30.03.2012
Mnenje Sandija Arčona
Naslednja tekma nogometaše Hita Gorice čaka v soboto ob 16. uri v Športnem parku. Belo-modri se bodo tretjič spomladi predstavili domačemu občinstvu. Nasprotnik je Triglav iz Kranja.

V moštvu, ki je ves teden vadilo s polno paro, ni novih težav. Nejc Mevlja, Danjel Rakušček, Vasja Simčič in Dalibor Stojanović so še vedno poškodovani. Miha Mevlja se je že priključil treningom moštva. Kaznovanih igralcev k sreči ni.

Tako ima strokovno vodstvo na čelu s trenerjem Miranom Srebrničem precejšnjo konkurenco na skoraj vseh igralnih položajih. Trener Srebrnič svari, da ni lahkih tekem. Čeprav so Kranjčani zadnji, pa bo preizkušnja vse prej kot enostavna.

Med istima nasprotnikoma je bilo jeseni v Športnem parku 0:0, v Kranju pa 2:0 za belo-modre. Tedaj je dvakrat zadel Goran Galešić, eden od glavnih adutov tudi v soboto.

Krilni napadalec Sandi Arčon je v pogovoru za nd-gorica.com sprva ocenil dosedanji del pomladi: ''Mislim, da smo prvenstvo začeli zelo dobro. Dve zmagi in dva remija v prvih štirih tekmah so odličen izkupiček. Ob tem moramo upoštevati celotno situacijo, ki ni lahka. Škoda le zadnjega poraza v Velenju, ki pa si ga po igri nismo zaslužili.''

Strelec prvega pomladnega gola proti Celjanom je nadaljeval: ''Igra moštva se iz nastopa v nastop izboljšuje. To je najbolj pomembno. Proti Triglavu nas čaka težka tekma. Lestvica ni merilo za določitev favoritov. To se je izkazalo že večkrat. Moramo se osredotočiti na našo igro. Seveda si želimo tri točke. Lepo bi jih bilo osvojiti tudi s pomočjo gledalcev.''

Novogoričane po dvoboju s Kranjčani že v sredo 4. aprila čaka najbolj prestižna tekma pomladi. V Športni park ob 18. uri prihaja Maribor.