Miran Srebrnič prvi trener, Florjan Debenjak njegov tesni sodelavec
Nova Gorica, 27.05.2011
Preberite še ostale podrobnosti z novinarske konference! Začetek priprav na novo sezono že 15. junija.
Na petkovi novinarski konferenci je športni direktor ND Gorica Uroš Dovžak uradno naznanil, da bosta moštvo Hita Gorice v Prvi ligi 2011/2012 vodila glavni trener Miran Srebrnič in Florjan Debenjak kot pomočnik trenerja in njegov tesni sodelavec.
''Po premisleku smo vodenje prve ekipe ND Gorica zaupali Miranu Srebrniču in Florjanu Debenjaku. Preostali del strokovnega štaba ostaja nespremenjen. V vodstvu ND Gorica verjamemo v strokovno znanje in izkušnje tako Mirana kot Florjana. Gorica jima pomeni velik del življenja, saj sta vrsto let tu nastopala in se kot trenerja tudi kalila. Verjamemo, da smo se prav odločili.''
ND Gorica in Mirana Srebrniča veže triletna pogodba.
Miran Srebrnič se na klop Hita Gorice kot prvi trener vrača po 8. krogu 1. SNL 2009/2010. Kasneje je bil pomočnik trenerju, nazadnje Davidu Peršiču. Ob imenovanju je Srebrnič povedal: ''Upravi se zahvaljujem za zaupanje. Sam se bom potrudil po najboljših močeh. Obljubim, da bomo vsi v strokovnem štabu trdo delali. Kot sami veste, je nogomet nepredvidljiva igra, zato je dolgoročne plane vedno težko narediti. Pričakujem korak naprej, predvsem pri razmišljanju igralcev. Gorica je bila vedno zmagovalen klub in to mentaliteto moramo nazaj pridobiti. Letos smo veliko naredili, toda ekipa ni pokazala konstantnosti, kot bi si jo vsi želeli. Upam, da bomo uspešni. Okvirni cilj v naslednjem prvenstvu je vrnitev Gorice na evropsko prizorišče. Toda ponavljam, da je nogomet zelo nepredvidljiv, zato bom rekel, da bomo šli iz tekme v tekmo po čimboljši rezultat. Zame je vsaka tekma pomembna.''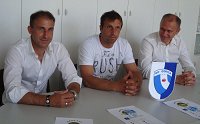 Z leve: Florjan Debenjak, Miran Srebrnič in Uroš Dovžak
Florjan Debenjak je dodal: ''Lahko samo pritrdim Miranovim besedam. Cilj je uspešno delo na dolgi rok. Po kakovosti zagotovo sodimo med štiri najboljše ekipe v Sloveniji, toda potrebno bo odpraviti nihanja. Tudi sam obljubim, da bomo trdo garali za uspeh ekipe. Ob tej priložnosti bi se rad zahvalil mladinski šoli Hit Gorica za priložnost, ki so mi jo ponudili, ko sem bi tri leta trener mladinske ekipe. To izkušnjo bi priporočal vsakemu mlademu trenerju. Tam se lahko veliko naučijo.''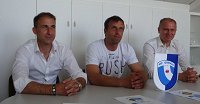 Z leve: Florjan Debenjak, Miran Srebrnič in Uroš Dovžak
Športni direktor Uroš Dovžak je nato dodal, da ima ND Gorica že sklenjeno sodelovanje s tremi novimi igralci. Njihova imena bodo sporočena po koncu letošnjega prvenstva, ki se izteče v nedeljo. ''Gre za izkušene nogometaše, eden izmed njih je bil v preteklosti že član Gorice.''
ND Gorica ima z vsemi aktualnimi člani pogodbeno razmerje vsaj še za eno sezono, izjemi sta Enes Demirović in Admir Kršić, ki jima dogovor poteče po koncu te sezone.
15. junija začetek priprav
Znani so tudi okvirni datumi začetka aktivnosti v novem tekmovalnem letu. Priprave na jubilejno 20. sezono v 1. SNL se pričnejo že 15. junija. Prvi del priprav bodo Novogoričani opravili doma, 25. junija pa se za teden dni selijo v Moravce. Tam bodo odigrali štiri prijateljske tekme. Nasprotniki še niso znani.
Prva liga 2011/12 se prične že 16. julija. Trener Miran Srebrnič je ob tem pojasnil: ''To zagotovo ni v redu. Igralci imajo med dvema prvenstvoma le 14 dni odmora, kar je premalo. Pravih priprav niti ni mogoče načrtovati, kajti igralci si od prejšnjega tekmovanja še niso niti oddahnili. Menim, da je začetek prvenstva prezgodnji, zimski premor pa bistveno predolg. Ampak tako je, temu se moramo prilagoditi.'' Pritrdila sta mu tudi Uroš Dovžak in Florjan Debenjak.

ND Gorica je ob tem podrobno predstavilo program nedeljske zabavne prireditve ter prihajajoči mednarodni mladinski turnir U-10.
Foto: ND Gorica
ND Gorica – vse pravice pridržane!