Izjemna zmaga v Lendavi! 4:1!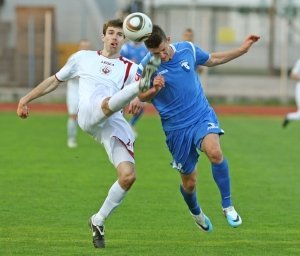 Nova Gorica, 16.04.2011
Plut trikrat, Arčon enkrat!
Belo-modri so z odlično predstavo v Lendavi premagali domačo Nafto kar s 4:1. Vse zadetke so gostje dosegli v prvem polčasu. Kar trikrat je bil uspešen Vito Plut.
V ekipo sta se vrnila osrednji branilec Nejc Mevlja in napadalec William Franklin Vicente. Zaradi kazni je manjkal Danjel Rakušček, belo-modri pa so zaigrali z ofenzivno postavitvijo.
Po dveh uvodnih strelih domačih igralcev so gostje takoj vzpostavili ravnotežje in že v 11. minuti prišli do vodstva. Sandi Arčon je z leve strani poslal podajo v kazenski prostor, kjer je Vito Plut z okrog 11 metrov natančno meril.
Novogoričani so povsem zagospodarili na igrišču. Po zadetku je sledil nevaren strel Mihe Mevlje z razdalje, že v 22. minuti pa so se gostje veselili dvojnega vodstva. Sandi Arčon je zadel z izjemnim lob-udarcem.
Po dvakratnem poizkusu Nafte, je v 28. minuti na semaforju že pisalo 0:3. Tokrat je po levi strani prodrl Franklin Vicente, poslal predložek v sredino, kjer je ob neodločnosti domače obrambe do žoge prišel Vito Plut in še drugič osebno ukanil domačega vratarja.
Le nekaj minut zatem že 0:4. V vlogi podajalca se je drugič znašel Sandi Arčon, ki je v sredini našel Vita Pluta za četrti gol Hita Gorice. To je bil že tretji gol Belokranjca na tekmi, skupno šesti v belo-modrem dresu.
Tudi v drugem polčasu so bili Novogoričani boljši. Nevaren strel je v 47. minuti sprožil Goran Galešić, vajo je le nekaj minut zatem ponovil Rok Buzeti, ki je nazadnje nosil prav dres Nafte. Po domačem poizkusu in uspešni obrambi Vasje Simčiča je za Hit Gorico dobro udaril še Franklin Vicente.
Častni gol je Nafta dosegla v zaključku tekme, ko je bil z roba kazenskega prostora uspešen Bojan Matjašec.
Strokovno vodstvo Novogoričanov je na polovici drugega dela priložnost ponudilo bočnemu branilcu Matiji Široku ter napadalcu Krisu Joganu. V zadnjih desetih minutah je nastopil tudi zvezni igralec Nemanja Vidić.
To je že tretja zaporedna zmaga Hita Gorice, peta na devetih spomladanskih tekmah. Bravo, fantje!
Naslednjo tekmo belo-modri igrajo v petek 22. aprila ob 20. uri na stadionu v Stožicah proti Olimpiji.