Nejc Praprotnik v Atalanto!
Nova Gorica, 29.12.2010
V Bergamo se bo preselil poleti
Mladi, še ne 18 letni igralec ND Gorica Nejc Praprotnik je podpisal 3,5 letno pogodbo z italijanskim klubom Atalanta iz Bergama.
Praprotnik je spomladi podpisal svojo prvo profesionalno pogodbo z ND Gorica, njegovo nadarjenost pa so že dalj časa budno spremljali številni evropski klubi. Po resnem zanimanju s strani torinskega Juventusa, Manchester Cityja in nekaterih nizozemskih klubov, se je Nejc odločil za Atalanto.
Ob prestopu je Nejc Praprotnik povedal: "Zame je to izredna priložnost za napredovanje. Menim namreč, da sem prišel v pravi klub, kjer zelo dobro in veliko delajo z mladimi. S pogoji sem zadovoljen, kakor tudi s pogajanji, ki so bila zelo korektna."
Mladi reprezentant Slovenije bo spomladanski del prvenstva kot posojeni igralec Atalante igral v Novi Gorici, v Bergamo pa se bo dokončno preselil poleti.
Športni direktor ND Gorica Uroš Dovžak je dejal: "Z Nejcem in njegovimi starši smo se pogovarjali o nadaljevanju kariere pri takem klubu, ki bi mu kot dijaku najbolj ustrezal. Za Atalanto je Nejc, kot sami pravijo, odlična naložba za prihodnost. Zanj so bili zelo zagreti, saj ga niso spremljali le na tekmah, temveč nekajkrat tudi na treningih. Atalanta je obenem pokazala veliko željo po sodelovanju na več področjih z ND Gorica kot prijateljskim klubom v Sloveniji in mi smo jim rade volje stopili naproti."
To je še en dokaz uspešnosti delovanja vseh selekcij novogoriškega nogometa. Pogajanja med vsemi vpletenimi stranmi so potekala približno dva meseca.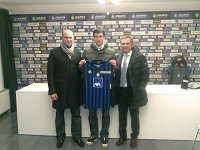 Na sliki z leve: Uroš Dovžak, športni direktor ND Gorica, Nejc Praprotnik in športni direktor Atalante Gabriele Zamagna

Foto: ND Gorica
ND Gorica - vse pravice pridržane