Terror boys v petek ob 15. uri organizirajo čistilno akcijo! Vabljeni!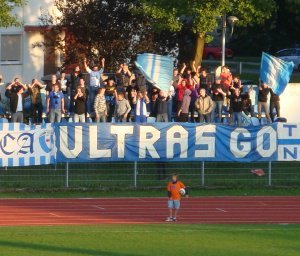 Nova Gorica, 17.11.2010
Preberite tudi o nadaljnjih akcijah
Pred kratkim se je na veselje vseh športnih navdušencev ponovno zbrala navijaška skupina Terror boys. Nogometnemu društvu Gorica so pred kratkim posredovali nekaj zanimivih predlogov, ki smo jih v klubu rade volje sprejeli in jim bomo pri izpeljavi projektov tudi pomagali.

V petek ob 15. uri prva čistilna akcija! Vabljeni!
Prva od akcij bo že ta petek ob 15. uri. To bo čistilna akcija, ki bo odprtega tipa. Terror boysi vabijo vse, ki bi želeli pomagati. Skupaj bomo čistili na tribunah stadiona v Športnem parku in pod njimi – tako na glavni kot na navijaški tribuni, pa še okoli igrišča, če bo vreme to dovoljevalo. Če bo dovolj svetlo in če dela oz. smeti ne bo prav veliko, bomo poskrbeli tudi za okolico igrišča z umetno travo.

Čiščenje in vzdrževanje teh objektov je sicer domena Športnega zavoda, a navijači ugotavljajo, da vse vendarle ni tako, kot bi si želeli. To potrjujejo tudi številni starši, ki hodijo na tekme mlajših selekcij k igrišču z umetno travo, zato pobuda, ki bo, tako vsi skupaj upamo, obrodila sadove in pritegnila še kakšnega drugega privrženca novogoriškega nogometa.

Uredimo stadion
Čistilna akcija ne bo muha enodnevnica, tako vsaj obljubljajo Terror Boys, ampak jih bodo izpeljali več. Obširnejša bo zagotovo spomladanska, poimenovana UREDIMO STADION, ko bodo navijači prebarvali oz. osvežili zidove ob »njihovi« tribuni – na vzhodni strani stadiona, v klubskih barvah. Poskrbeli bodo tudi za nov grafit, tak, ki bo primeren in potrjen s strani Športnega zavoda. V mislih imajo tudi lepšo ureditev dostopa do navijaške tribune, a je to še stvar dogovorov, glede na to, da ima Športni zavod za južni del stadiona že neke načrte.

Krvodajalska akcija
ND Gorica z veseljem podpira in se bo z nekaterimi člani tudi udeležila še ene pomembne akcije. Terror boys bodo izpeljali krvodajalsko akcijo. Glede na to, da je med navijači velika večina študentov, je ta akcija predvidena med prvomajskimi prazniki 2011. Na spletni strani nd-gorica.com bomo omogočili prijavo za sodelovanje na akciji tudi ostalim, ki bi naše navijače radi podprli pri tem humanitarnem dogodku.

Urejanje športnih igrišč
Navijači Terror boys so se ponudili tudi za pomoč pri urejanju vseh športnih igrišč v Novi Gorici. S to pobudo bomo v prihodnjih dneh seznanili pristojne, tudi novega župana Mestne občine Nova Gorica, ki nam bodo povedali, kako lahko to idejo uresničimo.

ND Gorica ob tej priložnosti izreka pohvalo navijaški skupini Terror boys, ne le zato, ker so nas s svojo ponovno prisotnostjo lepo presenetili, temveč tudi zato, ker z društvom korektno in tvorno sodelujejo. S tem naši navijači razbijajo mit o navijačih kot huliganih.

Tudi napis, ki ste ga videli ob začetku tekme proti Kopru, so razumeli in ga kasneje tudi razložili drugače, kot je bil sprejet. O tem ste lahko brali na njihovi spletni strani www.terrorboys.com.