Novinarska konferenca: Vstopnice po 5 EUR, Miran Srebrnič pomočnik trenerja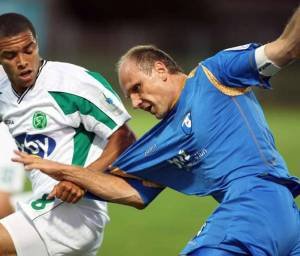 Nova Gorica, 05.03.2010
Nogometno društvo Gorica je danes pripravilo novinarsko konferenco o ciljih društva, razvoja nogometa na Goriškem ter o aktualnem stanju v društvu.


K besedi je pred javnostjo najprej pristopil v.d. predsednika ND Gorica Robert Vrtovec. Najprej je predstavil vse člane Izvršnega odbora društva, ki so bili tudi prisotni.
Aktualno stanje v klubu kaže na 450.000 evrov primanjkljaja, celotno novo vodstvo pa si prizadeva čim prej stabilizirati razmere. Igralcem je bila včeraj izplačana decembrska plača ter še preostali del novembrske plače, kar je prvi korak k uresničevanju zadanih ciljev ob nastopu novega izvršnega odbora društva.
''Tako organizacijsko kot finančno moramo klub postaviti na trdne temelje. Zavedamo se, da nas čaka veliko dela. Pomemben del strategije bomo usmerili tudi na področje marketinga in utrjevanja zaupanja in ugleda ND Gorica v javnosti. Seveda se v kratkem času ne da veliko narediti, toda dolgoročno moramo postati ugledna športna sredina,'' je dejal Vrtovec.
Športne cilje je predstavil Uroš Dovžak, član IO, zadolžen za tekmovalni del. ''Primarni letošnji cilj je obstanek med najboljšimi. Verjamem, da smo ga sposobni doseči. Obenem bomo storili vse, da še tretjič v zgodovini kluba osvojimo Pokal Slovenije. To bi bila res prava vzpodbuda za lepšo prihodnost ND Gorica, ki ima več kot šestdesetletno tradicijo. Tudi sam bi poudaril, da moramo dolgoročno klub stabilizirati in ga v družbi pripeljati na mestu, ki si ga zasluži.''
Pred sobotnim srečanjem z Labod Dravo (Športni park ob 16.00) sta poglede predstavila trener David Peršič ter kapetan moštva Enes Demirovič. Oba sta izrazila zadovoljstvo z odigrano prvo tekmo in zmago v Celju ter napovedala, da bodo storili vse, da zmagajo tudi drugo srečanje. ''V to ekipo verjamem in prepričan sem, da si bomo obstanek zagotovili že precej pred koncem prvenstva. Ekipe ne bomo dosti spreminjali, pozitivno pa je, da se vrača Milan Ostrec. Ob tem vsi skupaj računamo na izdatnejšo pomoč gledalcev,'' je povedal trener Peršič, ki mu bosta tudi uradno pomagala Florjan Debenjak in Miran Srebrnič.
Izvršni odbor je predstavi še nekaj novosti. Po novem bo cena vstopnice 5,00 EUR, za mladino do 15. leta starosti pa bo vstop na tekmo prost. Ob tem bodo igralci, ki so v dresu ND Gorica odigrali vsaj 100 tekem, 10 sezon in najbolj zaslužni nekdanji klubski funkcionarji imeli možnost prejema brezplačne letne vstopnice, saj želi izvršni odbor s tem povečati pripadnost klubu.

Član IO Marjan Stojko je povedal, da je načelen dogovor z družbo Hit d.d. o nadaljnjem sodelovanju z ND Gorica dosežen, dogovori o podrobnosti pa so še v teku. Kot že rečeno, bo ND Gorica v prihodnje veliko pozornosti posvetila marketinški strategiji ter iskala sožitje s celotnim širšim okoljem, njegovimi prebivalci ter še posebej gospodarstvom, ki bo v obojestransko zadovoljstvo.